Testimonials
Parent Testimonials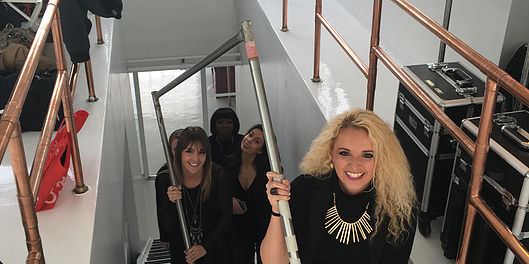 Student Testimonials
Professor/Teacher Testimonials
Read Professor/Teacher Testimonials
Parent Testimonials

I could not let anymore time pass without responding to this email and letting you both know what a life building experience you provided Ellen. Holland, your communication and organization skills reduced my anxiety over sending my 16 year old off to New York for a week and investing what was, for Ellen's father and I, a good chunk of change. When I left New York on Sunday, I was even more confident it was going to be worth the investment and a tremendous growth opportunity for our daughter.
I owe both of you a huge thank you. For Ellen it was a tremendous experience. She talked quite a bit about the activities and the places and the clothing and the cool stores and the Alexander McQueen exhibit and just being in New York. I am glad I waited a little to send this to you because as the week went on and she had time to reflect a little on the experience she shared with me this: "Mom, you know what I liked the best? The people. How positive everyone was. For me, that's what made it so special."
And special it was. She talked about everyone she met and was introduced to with so much spirit and sparkle. Just listening to her talk about them and how she (forgive the silly pun) "sized them up" was just delightful for me. The range of people and the talent she was exposed to was something she will treasure for a long time. Most importantly, however, I have to tell you she came home feeling connected to you two extremely positive women. Those connections, that exposure to women who have made their way in a profession she has an interest in, could not have come at better time in my daughter's life. After this last year in a high school where the negative energy quotient is pretty high when you're someone who dares to be different, I cannot possibly share with you how important that sense of connection is. So a heartfelt thank you to you two.
Holland, your program is terrific. You have hit on something that fills an important niche in a young person's development. I would be more than happy to serve as a reference for any future parents who ask you for one. I am sure Ellen let you know herself she would love to come back for another round next summer.
Parent of a Camper
Lynn
Texas

Our daughter Hannah, from ECU, participated in the Fashion Week program last week. I just want to share how delighted she was with you and your program. Hannah said the program was action packed, directly relevant to her study program and career interests, featured direct participation in major industry events, allowed interaction with many people who work in the industry in various roles, and was full of great experiences and information. She said you were super intelligent, organized, and high energy - she thought you were awesome. She loved the hotel, and made some great new friends. Many thanks Holland, and great job!
Parents of Fashion Week Adventure Participant
Michael and Amy P.
Florida
Thank you both for your efforts! Allie absolutely loves your camp and for that Michele and I owe you a debt of gratitude. For two years now, I have been impressed with the energy and enthusiasm the two of you display. Your passion for this camp and for educating those young ladies (and boys too this year!) is infectious. I see it in the Instagram photos you post and, most importantly, in the recap of the week we get from Allie. You two should be very proud of what you are doing! Thank you both once again. Good luck going forward!!!!
Parent of a Camper Who Has Attended Our Program Twice
Mike L.
New Jersey
Thank you for your kind email. You beat me to it! Abigail had such a wonderful time and has not stopped talking about her experience, to anyone who will listen! And we are all listening, because it sounds like not only was it very informative and exciting, it was also character building and eye opening. Although we are from the Boston area and have been to NYC several times, it was a unique and comfortable way to be exposed to the Big City and to many different people. I think at her age it is so important to take in as much as you can. So a great BIG thank you to the both of you for such an amazing program. Hopefully we will be back for a fashion week adventure soon. I know I would love to! Thank you again!
Parents of a Camper
Sandy and John R.
Massachusetts
I also want to thank you for this wonderful opportunity you have given my daughter. Lindsay said your tour was super and she would love to go on another one with you someday. This was Lindsay's 6th time going to NYC but this trip was so much more exciting because she was able to do and see things she would never be able to do on her own. Of course getting to walk the runway was an extra bonus but she would have never had that chance if she hadn't gone on your tour. That was a chance of a lifetime for her. Lindsay said she loved you. She told me you were so nice, fun and just great with everyone. I cannot tell you how much I appreciate your kindness. I also want to thank you for sharing the pictures on your Facebook page. It was nice getting to see them and seeing all you were doing during the trip. Since you kept them so busy and they were having so much fun, Lindsay didn't have time to text me. Which by the way, I considered that a really good thing. She had a blast! Thank you again!
Parent of a Fashion Week Adventure Participant
Angie G.
North Carolina
---
Student Testimonials

I can't thank you enough for how amazing the whole trip and experience was. You are such an amazing woman and I'm so grateful to have met you and to have gained a friend and mentor. I am still in shock of how wonderful of a time I had in NY with our group and I learned so much! I am so motivated to move to NY early next year and start my career- I really felt at home while I was there. My heart feels like I'm on the right path and I couldn't be more thankful for you giving myself and all of us this experience.
Participant in Our Fashion Week Adventure
Amira E.
California
Sarah was just in New York this easter weekend and she and I got to talking about banson. We wanted to let you know that you were so, unbelievably right about making lifelong friends at banson. Our experience has truly changed our lives for the better and we are so grateful to you both. I brought Sarah to some fun places in the city including smorgasburg and a yankee game! We are just so glad that we became friends and it's all thanks to the two of you. We hope you both had a very happy easter!
Former Campers and Fashion Week Adventure Participants
Lindsey and Sarah
New York and Florida
I just wanted to extend my sincerest gratitude for the unbelievable experience this past week on the fashion business career tour. It exceeded all of my expectations and I couldn't be more excited and motivated for my future. It really opened huge doors I never knew I could access. Thank you again for the opportunity and I look forward to gaining greater contacts with you and others you've exposed me to.
Student from Bryant University
Julia
Rhode Island
I wanted to express my sincerest gratitude for the week that I spent with you in tour from Cal State Northridge. I had an amazing time. We met so many faces, and so many people. I'm 23 years old, and I WISH that I had taken this tour when I was 16 through 18. I feel like I'm almost playing catch up in a way, because I feel like I'm coming to the NYC game a little late in life. But I know with hard work and perseverance, everything is possible. On tour last week, I made some very important life decisions. I decided that I do not want to go to graduate school. That was a very large decision for me to make, and feel comfortable with. And, I feel very much at peace (and a little excited) to not be planning on grad school right now. I decided that I want to live in New York, and soon. I would love to take an internship there next summer (2017). My dream is to work for Tracy Reese, so I really want to keep in touch with the people on her team. I just wanted to say thank you. Last week was so amazing, and I feel like I made real life connections. I know you had mentioned that you could put together a list of everyone we saw last week, with all of their contact info. Is that still possible? I'd like to reach out to everyone that we saw, and express thanks for seeing our school-and also to make connections for when I do move to New York.
Student from Cal State Northridge
Naikea
California
Hi Holland! Long time no talk, I just wanted to let you know that I have officially committed to Parsons and will be attending The New School and majoring in Fashion Design. They gave me a scholarship worth $16,000 a year which made everything possible. I can not thank you enough for this because you truly are the one who inspired me to not only apply but go to New York City in the first place. So so excited to walk the streets of Manhattan and have cupcakes and pizza at 1 am in some little diner.
Former Camper Who Participated in Two Banson NYC Programs
Sami
Ohio
---
Professor/Teacher Testimonials

I wanted to take time to thank you for your contribution to my class this semester. I appreciate your support of myself and our students. The time in NYC with you brings my lectures to life and enhances the learning process for the students. If I can ever be of service to you and your endeavors, please do not hesitate to reach out.
Drexel University
Chris B.
Philladelphia
Just wanted to thank you again for a great trip! When I surveyed the students yesterday/today and asked what one thing stood out about the trip ......they overwhelmingly said they loved YOU and commented over and over about how organized the trip was, etc. Their comments have been nothing but positive here so I am hoping the eval's were as well. Many of them want to come again and I know that is because you inspired them and they were happy with the appts and people they met along the way. They did love John and Kenneth in particular! They also were quite impressed with your preciseness and punctuality in getting around town! Me, too! You certainly know the city! I am very happy to have had the opportunity to work with you. It truly was a wonderful trip and I know you put a lot of effort in designing the trip for us. We loved the orchestra seats haha - what a treat! Thank you so much for the pictures also - just saved and showed to classes today. When I get myself back together I am putting together a powerpoint of all and will send to you or have kids post on facebook. Thank you again so much for all your hard work, gifts and friendship. I will be in touch this summer as I am planning for next year's trip. Have a terrific Easter and spring break. Ours is next week - thankfully!
Kellam High School
Cindy M.
Virginia
Once again, this was a fantastic trip that was extremely beneficial for the students. We appreciate your efforts to coordinate all the visits and make the contacts and logistical arrangements for us. The range of businesses to which the students were exposed was enlightening for them and will help inform their career choices. It was also great seeing you!!
Bryant University
Teresa
Rhode Island
I really appreciate all your concerns and efforts for this tour. I am sure that all of SNU students were happy and learned a lot from this experience. Even I myself could get a new insight for the fashion industry in New York. Thanks to your enthusiastic yet intelligent work, we all had a wonderful time in New York. I hope we can meet another time some day.
Seoul National University
Yuri L.
Korea
She is the BEST! I have worked with two other tour companies, as I have been bringing students to New York City for fashion week for 5 years. She is thorough, professional, and very well connected in the fashion industry. I give her a most excellent score with regards to visits, planning seminar, as well as group activities. She knew I had a tight budget and she worked with $250.00 for a group dinner for 16 people, and it was great! Small scale restaurant in Little Italy, but very nice. She asked me what I was looking for in regards to the tour, and I just simply said, from conceptualization to consumer and she planned everything just right. Your students will have a memorable experience, and a great time in the city.
Lynn University
Lisa D.
Florida